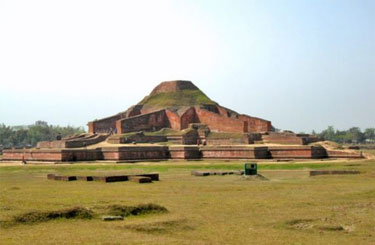 Bangladesh World Heritage Tour Package
(Dhaka-Bogra-Rajshahi-Mongla-Sundarban-Bagerhat-Dhaka)
(Tour itinerary -08 Nights / 09 Days)
Day-01: Meet & Transfer to hotel, PM old Dhaka city tour
Pick up from airport & transfer to hotel. If time permits our guide will take you to the most interesting sites like Lalbag Fort built in 1678 during Mughol Dynasty and the Famous Dhakeshweri Mandir (Hindu Temple), Curzon Hall, Shahid Minar, National Mosque, Star Mosque etc. On your return visit the National assembly building. Dinner and overnight at hotel.
Day-2: Dhaka / Bogra
Early morning after breakfast drive to Bogra passing through the panoramic 11th world's longest Jamuna Bridge. Lunch at Bogura parjatan motel. After lunch sightseeing at Mahasthangar and the museum. Dinner and over night stay Bogra parjatan motel.
Day-3: Bogra/ Rajshahi
Morning after breakfast drive to world heritage site Paharpur the single largest monastery south of Himalayas. After lunch drive to Rajshahi. . Evening you can visit the silk emporium. Dinner and over night stay at hotel.
Day-4: Rajshahi /Dhaka
We'll drive this morning to Dhaka. En route we'll visit the Puthia Rajbari where some of the finest and historically important Hindu Mandir and the beautiful historical Rajbari (King's Palace) is located and other historical sites. Lunch at way side restaurant. Upon arrival Dhaka check in to the hotel and over night stay.
Day-05: Dhaka to Mongla by Paddle wheel steamer
Morning you can take a wonderful old city trip. Visit Star Mosque, Shakharibazar (hindu streets, Ashan manjil, Sadarghat. Afternoon (16:00 hrs) start journey to Sadar Ghat steamer port. After arrival at Sadorghat accommodate the Rocket steamer & start cruise at 18:30 hrs. The famous paddle wheel steamer (now converted from steam to marine diesel engine) on ward to Mongla Port under Bagerhat. Night pass in the 1st class AC cabin on the boat. Overnight at steamer.
Day 06 : Mongla (full day cruise)
After full day cruise Rocket will arrive Mongla Port by 16-17 hrs. Transfer to Hotel Passur** by the river bank and dinner & overnight stay at hotel Pasur.
Day 07: Sundarban
Morning start cruising the world heritage site Sundarbans forest, the world's largest mangrove forest and the home of Royal Bengal Tigers, crocodiles various other wild animals and enchanting birds. En-route stopping at Dhangmari forest station. Cruising will continue for about 2/3 hours through the rivers and canals of the deep forest. Return back to Mongla & overnight.
Day 08: Mongla / Bagerhat / Dhaka
After breakfast drive to Bagerhat by car to visit the World heritage site sixty domb Mosque. The world heritage site along with other historical places of nearby areas. After lunch drive to Dhaka. Arrive Dhaka late evening. Overnight.
Day 09: Departure transfer to airport
Morning shopping trip till departure transfer. Visit the most popular shopping centers and exotic Bazars and take a shower of masses. The shops we offer are Arong – a wonderful handicraft shop, Sopura silk – most popular silk cloth brand in Bangladesh, antique market – where you will find different product and products made of brass metal, Westic – a very popular garments shop to the foreigners specially.