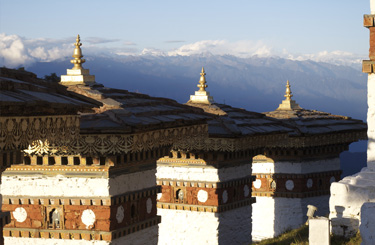 BHUTAN - THIMPHU - WANGDI - PARO TOUR PACKAGE
5 NIGHTS / 6 DAYS PACKAGE TOUR (FRI-WED or WED to MON)
Only for Bangladeshi passport holder

Day-01: Dhaka - Paro - Thimphu
Arrive at Paro and transfer to Thimphu. Once you arrive, our representative will receive you and transfer to Thimphu. En route enjoy the scenic beauty of nature.  
Overnight in Thimphu
Thimphu which is one of the twenty districts and currently it is our Capital City. Thimphu houses both political and spiritual head quarter. It is located in inner Himalaya and is situated in western part about 2,320 meters above sea level. It falls in temperate zone which has rich flora and fauna content.  
The core of city functions as commercial hub and people are engaged in business activities. It is surrounded by educational institutes, personal residence and offices of different agencies like government, private, cooperate and international organizations too.  
Thimphu has given shelter to mixture of population from different parts of the country. This makes capital city busiest and populated as compared to other Dzongkhags (Districts) in the country. People are engrossed in business, transport, agriculture, livestock, horticulture and white collar profession both in private and government organizations.
Day-02: Thimphu sightseeing
After leisurely breakfast visit following places of interest including National Memorial Chorten (stupa) was constructed in 1974 by the Queen Mother Ashi Sangay to honor the memory of third King, Jigme Dorji wangchuck. It is the only stupa which is located in the hub of the city.  Tashi-Choe Dzong -Trashi Chhoe Dzong means (Fortress of the Glorious Religion) was initially constructed during mid-seventeenth century and restored by Third King Jigme Dorji Wangchuck in the 1960's on the west bank of Wang chhu (river). Today, it houses His Majesty's secretariat, ministries and the central monk body. Centenary Farmers Market Situated on the bank of river it offers our rural community to enhance their economy by selling their organic vegetables, fruits and grains. It is a place where we get an opportunity to come in contact with diverse populations.  It operates from every Thursday till Sunday evening.  Overnight in Thimphu
Day-03: Thimphu to Punakha / 70 km / 3hrs
After breakfast transfer to Punakha crossing over Dochula pass at an altitude of 3150m above sea level. On clear day view of eastern Himalayan range can be seen from the pass.
Punakha, which is one of the twenty districts of Bhutan. It served as the first capital for over three hundred years until mid of twentieth century and still it is the winter seat of Je Khenpo(the chief abbot). The first king sir Ugyen wangchuk was crowned in 1907 at Punakhadzong. It is blessed with subtropical forest which has beautiful vegetation and is situated in inner Himalaya approximately 1300 meters /4265 feet above sea level. Most of the population resides in rural dependent on agriculture for their sustenance. The physical setting of the area is characterized by traditional houses surrounded by paddy field along with lives stock. On the other hand urban centers houses administrative units for both government and private organizations. We do find business community and educational institutes. People depend on agriculture livestock, transport, business, government and private organization for their livelihood.
Point of interest: Pungthang Dewachen Phodrang Dzong
Pungthang dewachen Phodrang fortress means" Place of great bliss " is located on a stretch of land where two rivers converge was built during mid-half of seventh century by Zhabdrung Ngawang Namgyel (unifier of Bhutan) to serve as administrative and religious center. Today, it houses monastic body headed by chief abbot during winter and the fortress serves as the administrative center of the district.
Kham sumYulee Temple – This temple is situated on a hill top surrounded by pristine vegetation. This temple was dedicated to our fifth king of Bhutan and was built in 1992.
Chhimi Lhakhang- The temple of fertility is situated on the hill top adjacent to local village at Lobesa. The significance of this is temple is associated with the saint known as Drukpa Kuenly or divine madman whose is famous for his outrageous way of teaching dharma in 15th century.
Overnight in Punakha
Day-04: Transfer to Paro 135 km 5 hours
After breakfast transfer to Paro retracing same way back via Dochula pass, en route stop over at Dochula pass to enjoy the panoramic view of the eastern Himalayan mountain ranges.
Paro which means "place of Happiness and comfort" is one the twenty districts. It is a site of historical architectural Heritage and it's also considered as sacred Pilgrimage destination for Bhutanese. It is situated in the north-western part of the country approximately 2,250m / 7,382ft above sea level.  Paro falls in the temperate zone and has great biodiversity.  
The heartland of Paro is dominated by business community and it is where the only International Air Port of Bhutan is situated since 1974. People in this area are engrossed in small business activities, cottage industry and textile emporium. Others are engaged in both government and private firms. In the rural areas the societies is mostly agrarian, some depend upon livestock and others on horticulture.  
Day-05: Paro sightseeing
After breakfast visit the following places of interest:
Point of interest-Rinchen Pung Dzong or Rinchen Pung Dzong means- fortress on a heap of Jewels is one of the finest Bhutanese architectural heritages situated on a steep hillside above Paroo town. It was built in mid Seventeenth Century by Zhabdrung Ngawang Namgyel on the foundation of a monastery built by Guru Rinpoche. The prime reason to construct was to defend territory and people from external invasion by Tibetan. Ta Dzong – Ta Dzong was a watch tower to cater security for entire Paro valley and is situated on a ridge above RinchenPungDzong.Since, 1968 Ta dzong houses national museum of Bhutan. Farm House - Farm houses are found in the out skirt of town usually two to three storied buildings with colorful paintings on walls and lintels and traditional farm houses are constructed without using single nails. All houses have roof and same architectural style. The peripheries of every house are predominantly agricultural field and shelter for domestic animals.  
To add charm it is more exciting and cherishes able to socialize with people, feel their lifestyle and enjoy the true esthetic Bhutanese hospitality. Overnight in Paro
Day-06: Depart
Early morning departure transfer to airport. Tour end
Tk. 47,900/- or USD600.00 Per Person (twin share basis)
Package includes: Dhaka - Paro - Dhaka air ticket by Druk Air, 2 nights twin share accommodation at Hotel White Tara (3 star) in Thimphu, 1 night twin share accommodation at Pema Karpo (3 Star) in Punakha, 2 nights twin share accommodation at Hotel Janka Resort (3 Star) in Paro, all transfer by private transport, sightseeing with private transport as per itinerary, daily breakfast, guide & all taxes.
Rates excludes: Meals, beverages, telephone, entry fees, laundry, insurance or other extra personal effects.
Rates valid subject to availability.
Valid till 31st Dec'17