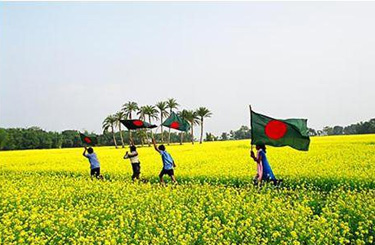 Name: The People's Republic of Bangladesh.
Capital: Dhaka
Area: 1,47,570 sqkm.
Religion: Islam, Hinduism, Christianity & Buddhism.
Population: 15,04,48340
Inhabitants: Bangali
Language: Bengali Currency: Taka
Time Zone: GMT +6
Calling Code: 088
When to go: Bangladesh has three main seasons: the monsoonal or wet season from late May to early October: the cool season from mid-October to the end of February: and the hot season from mid-March to mid-May. Despite the fact that these are the only observable seasons in Bangladesh, locals commonly refer to six.
Basanto (spring) February to April
Grishma (Summer) April to June
Barsha (Rainy) June to August
Sharat (Autumn) August to October
Hemanto (Misty) October to December
Sheet (winter) December to February
Passport & Visa: To visit, need passport validity for 3 months. Easy to obtain tourist visa from the Bangladesh Mission abroad.
For on arrival tourist visa please check below web link: http://www.immi.gov.bd/land_permit.php
Bangladesh is a South Asian Country. Bordered by India on West, North and East. On South-East a small bordered by Burma. On South the Bay of the Bengal.
It is a land of natural beauty and rich cultural heritage.