Beaches in Bangladesh
Bangladesh being the largest riverine delta of the world is still today as if looks like a magical tapestry of green woven intricately by unspoiled nature. Bangladesh is blessed with some of the world's splendid and the world's longest unbroken sandy sea beach at Cox's Bazar, the tranquil coastal islands like St. Martin, Inani, Moheskhali, Cheradeep, Sonadia, Kuakata, Kutubdia.
Explore Bangladesh and discover the exciting virgin beaches, meet the most friendly and hospitable people with rich cultural heritage.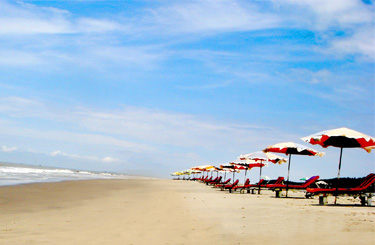 COX'S BAZAR - world's longest unbroken sandy sea beach
Cox's Bazar is called the Tourist Capital of Bangladesh. Having the world's longest unbroken sandy sea beach (120 km) sloping gently down to the blue water of the Bay of Bengal, its golden sands, towering cliffs, surfing waves, rare conch shells, colorful pagodas and Buddhist temples against the picturesque background of a chain of forested hills with rich wildlife made this beach as one of the most attractive tourist spot in the world. Further more by undertaking this tour one tourist can get a very easy access to visit some of the nearby islands like Sonadia, Moheshkhali, typical Buddhist village Ramu and the natural forest of Inani and Himchari. The visit of St. Martin Island forty eight kilometer from Teknaf bordering Myanman and 115 km from Cox's Bazar will be the lifetime experience. This is only Coral Island of Bangladesh, which is the paradise for the eco-tourists. This coral paradise is located in the Bay of Bengal surrounded by huge black stone, also play vital role as the refuge for rare marine turtles like Olive Redley turtle, Green turtle, rare Hocksbill turtle, Leatherback turtle and Loggerhead turtle. You can enjoy fantastic giant crabs and sea fishes having with exciting water spots, cruising through the sea by water baua boat ride or even you can para sailing. Only with eight square kilometer area of this dumb-bell shaped St. Martin Island is completely isolated and surrounded by huge black stone and clustered corals. The southern tip of the island is densely forested with mangrove species which the other parts are covered with green coconut trees and local fruit trees. All other modern tourism facilities like tourist resort with full board accommodation, swimming pool, water spots, and restaurants are available.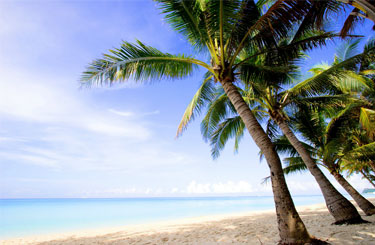 390 km away from Dhaka by road, Kuakata is a newly developed tourist resort. It is one of the most beautiful natural sea-beaches of the world from where one can see both sunrise and sunset. Here tourists can enjoy the unique lifestyle of the tribal people known as the Rakhaines. They are friendly and well known for their hospitality. Tourists can also visit a vast Buddhist statue in Misry Para near Kuakata.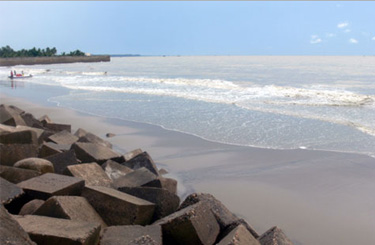 It is a sandy beach at the meeting place of the roaring sea and the river Karnaphuli.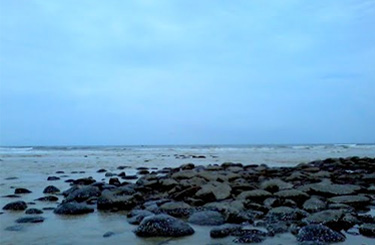 Inani is within Ukhia Thana, 35 km. to the south of Cox's Bazar and a background to steep hills to the east. There is a beach of immense blue water. It is a fascinating place for sea bathing.
INBOUND TOUR PACKAGES
COMBINED TOUR PACKAGES
TOUR, TRAVEL AND OTHER RELATED SERVICES
KNOW BANGLADESH - BANGLADESH TOUR GUIDE LINKS