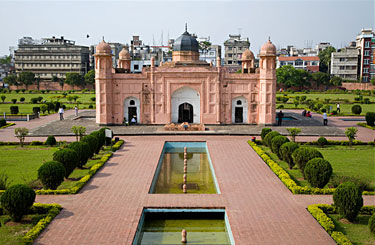 OLD DHAKA CITY & TEMPLE TOUR
Full Day Tour
Pick up from the designated point. Visit the most interesting sites like Majestic Pink Palace, Lalbag Fort built in 1678 during Mughol Dynasty and the Famous Dhakeshweri Mandir (Hindu Temple), Curzon Hall, Shahid Minar, National Mosque, Star Mosque etc. On your return visit the National assembly building, the most distinctive building in Asia and the wonderful architectural accomplishment of famous architect Luis I Kahn of USA..
PHOTOGRAPHY TOUR OF OLD DHAKA
Full Day Tour
A photography tour in Old Dhaka which helps you discover the charms of this colourful and lively place. If you are interested in street or portrait photography, this tour will be perfect for you. The locations of the photo walk differ every time depending upon available time. This tour can cover place like Sadarghat located in the southern part of old Dhaka on the Buriganga river, Shankharibazar most photogenic street of old Dhaka, Karwan Bazar It is a very colourful, vibrant and happening place, Komolapur Rail station etc. Places also can be select or customize according to your interest.
NATIONAL ASSEMBLY TOUR
Half Day Tour
Pick up from the designated point. Visit the National Assembly which was designed by Louis Kahn in 1963 , a world renowned architect and regarded as among his finest work. This visit includes both exterior and interior along with the necessary permission to visit National Assembly. After wards visit Lalbag Fort built in 1678, Curzon Hall built in 1904. This tour is not available on Fri day, Sat day or any other govt. holidays.
DHAKA BOTANICAL BIRDING TOUR
Full Day Tour
Pick up from the designated point and transfer Mirpur botanical Garden which is known for its gorgeous plant but beautiful birds abound here and it's a great place for bird watch. We'll offer this trip with experience birding guide and a driver. Afterwards transfer to Jahangir Nagar University (30 km) which great place for bird watching You can choose this tour thorough out the year, morning is generally best because birds are most active then, and often most vocal. All you need to have-quality binoculars, comfortable clothes, and walking shoes. End of the tour transfer to the designated point.
SONARGAON DAY TRIP & RIVER CRUISE
Full Day Tour
Pick up from the designated pickup point at 0800 hrs. Transfer to Boyddar Bazar (27 km) near Sonargoan and start cruise by wooden country boat for 2 hrs. The journey through the expanse of the mighty Meghna River, one can get the touch of the nature and experience about riverine village life of Bangladesh. On your way back you will visit the historic Sonargoan, the ancient capital of Bengal of Pre Mughol time and the most interesting folk art museum which has got a rare collection of folk art and traditional works of ancient Bangladesh. Return Dhaka.
RIVER CRUISE & VISIT JAMDANI VILLAGE
Full Day Tour
Pick up from then designated point at 8 AM and take about an hour drive towards Demra ghat. Immediately our cruising boat will start its cruise towards Murapara zamindar's palace, which was built at 1889. You might also visit a jute factory here. The cruise will resume upstream on Shitolakhya River. We will visit a village before one more stop for swimming. A traditional Bangladeshi lunch will be served at the boat. On our way back, we will stop at Noapora village to see the traditional Jamdanee Sharee weaving. Drive back to Dhaka in the evening. Note: we need minimum 3 adults to run this trip. Lunch included.
BRASS & POTTERY VILLAGE TOUR
Full Day Tour
Pick up from the designated Place at 7.30 AM and drive towards Dhamrai to show you the famous brass artisans at work. This artistic brass works have been inherited by this particular section of people since the historical Pala dynasty or 7th century AD. After wards we will proceed to Nayarhat a pottery village where you will amazed to see some special pottery works who are still survived denying the most modern technological development. On the way back visit National memorial, which was built, to commemorate the martyrs of war of independence 1971.
ARCHEOLOGICAL TOUR AT MOINAMATI & SONARGAON
Full Day Tour
Pick up from the designate point and drive to Comilla (114 km) to visit one of most exciting historical rails of the 7th century AD, at Moinamati and Lalmai. There are more than 50 ancient sites which contain mostly Buddhist monasteries, temples and stupas. The Moinamati Archaeological Museum is very rich for collection of recovered sculptures, terracotta plaques etc. After lunch we shall visit Sonargaon the ancient city and a picturesque site of historical and archaeological interest. Drive back to Dhaka.
MUSEUM TOUR
Half Day Tour
While you are in historical capital city Dhaka, you can take a wonderful museum trip. Visit Bangladesh National Museum formally inaugurated on 17 November 1983 and consider as one of the largest museums in South Asia. The Museum is extremely rich in stone, metal and wooden sculptures, in gold, silver and copper coins, in stone inscriptions and copperplates and in terracotta and other artifacts of archaeological interest. Afterwards visit the Liberation war Museum. It has 6 galleries which display the protracted struggle of the people of Bangladesh for establishing their identity as a nation under the British regime as well as their struggle for democracy, political and economic emancipation from 1947 and finally their armed struggle during the 9 month long War of Liberation in 1971. This tour is not available on Sun day & Thus day due to holidays.
SHOPPING TOUR
Half Day Tour
While you are in any business or official tour in this historical & capital city of Dhaka you may need to escape and we are here to help you by organizing a shopping tour. Visit the Jamuna Future Park the largest shopping mall in South Asia with area of area of 1,614,586 square feet. Visit Arong- a wonderful handicrafts shop, Artisan- Popular readymade garment shop with different brand with amazing cheap price. Visit other shop with many more leather, jewellery etc. After wards transfer to Gulshan DCC market to visit Antique shop and product from ship breaking yard.
INBOUND TOUR PACKAGES
COMBINED TOUR PACKAGES
TOUR, TRAVEL AND OTHER RELATED SERVICES
KNOW BANGLADESH - BANGLADESH TOUR GUIDE LINKS