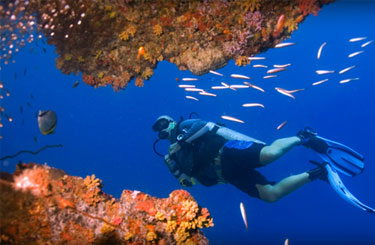 Saint Martin, charming island of the Lesser Antilles welcomes you for a stay made of sweetness, warmth and diversity. What makes Saint Martin such a special place is the islands two nationalities, two cultures and as a result its obedience to two distinct administrations.
Therefore, even though the ocean belongs to everyone, the application of two legislations has given birth not to one, but two marine parks. Thanks to this situation, the various species of flora and fauna that inhabit the waters of Saint Martin are doubly protected, all around the island and can reproduce and develop in peace. The great majority of diving sites are equipped with mooring buoys in order to avoid anchor damage.
Under the surface, you may admire many species : lobster, turtles, sponges, sea fans, elkhorn coral, queen conch, fish with sparkling colours : groupers, surgeon fish, Spanish hogfish... and a number of wrecks that have become the home of many fish.