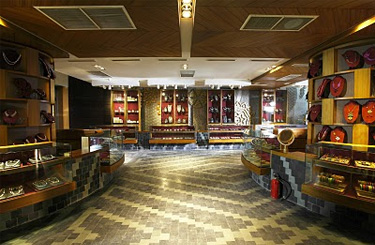 Go shopping in Bangladesh with recommendations, reviews, tips and photos posted by real travelers and locals.
For handicraft you can visit some shops in Dhaka, those are special for handicrafts,
For pearls you may visit ARONG, which is famous for it and guaranteed for pureness.
handy crafts are good to buy, there are different type of handy crafts to buy, Visit the shops and choose yourself what to buy.
Bangladesh is famous for pink pearl around the world, You will find the natural pearls in here, if you are interested in pearls then you must try with the famous PINK PEARLS of Bangladesh.
Prices depend on the size and shape of the pearls.
Aarong has a series of outlets in Bangladesh (7 at the last count), and an export branch at the head office in Dhaka.
Aarong carries a range of textiles and local craft, and most of it would come under the umbrella "gifts".
Aarong is run by the world's largest NGO, BRAC, and their outlets feature production from their various projects in the country.
Given the huge textile production in Bangladesh, there is a significant surplus production over and beyond the order from abroad and B-sorting that remain in Bangladesh.
This is sold through quality shops (Westecs ) and the fake stuff and B-sorting ends up in less formal textile markets in town, such as in the Banga Bazaar.
You will find some genuinely good clothes here, of well-known brands.