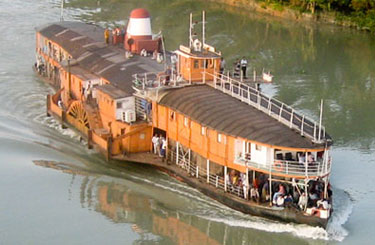 The famous paddle wheel steamer
CRUISE BY PADDLE WHEEL STEAMER & SUNDARBAN DAY TRIP
Tour Duration: 5 Days, 4 Nights
Bangladesh is a land of rivers where more than 700 rivers producing a deliciously lush landscape with more shades of green than you ever imagined. So, traveling by paddle wheel rocket steamer provides fabulous opportunity to see the country from more unusual angle. Cruise through the Ganges delta and Sundarbans - the home of Royal Bengal Tiger stands as the largest mangrove forest of the world with wide range of wildlife habitat will give you a wonderful experience.
Tour Feature
Old Dhaka City Tour
Cruise on Paddle wheel Steamer
Riverine Life of Bangladesh
Bagerhat World Heritage Site
Day Cruise to Sundarbans
Day-01: Meet & Transfer to hotel, PM old Dhaka city tour
Pick up from airport & transfer to hotel. Overnight at Dhaka.
Day-02: Dhaka City Tour, Board in to the Paddle wheel Rocket steamer towards Morolganj
Morning we'll offer a wonderful Dhaka City Tour included with the visit of interesting sites like National assembly building, the most distinctive building in Asia and the wonderful architectural accomplishment of famous architect Luis I Kahn of USA, Lalbag Fort built in 1678 during Mughol Dynasty and the Famous Dhakeshweri Mandir (Hindu Temple), Curzon Hall, Shahid Minar, Star Mosque, Majestic Pink Palace (Ahsan Manjil). After arrival at Sadorghat accommodate the Rocket steamer & start cruise at 18:30 hrs. The famous paddle wheel steamer (now converted from steam to marine diesel engine) on ward to Mongla Port under Bagerhat. Night pass in the 1st class AC cabin on the boat. Overnight at steamer.
Day-03: Full day cruise by Paddle wheel steamer to Morolganj
Cruise through the mighty river Meghna including other Chanel and river for 16-17hrs. This cruise will give your wonderful experience of riverine life. Arrive Morolganj around 4 pm and transfer to Khulna (2 hrs drive). En-route visit the World Heritage Site Shat Gambud Mosque and surroundings archaeological site. Checked in to the hotel and Overnight Khulna.
Day-04: Full day trip to Sundarbans, Fly back Dhaka
Morning transfer to Mongla (36 km) and board in to the tourist boat (fiber boat) towards Sundarbans mangrove forest through the Passur River and visit the Karamjal panoramic tourist Resort and salt water crocodiles arboretum. You can walk through a wooden path deep inside the forest (1/2 km) to observe the forest vegetation and the wildlife like spotted deer, Monkeys wildfowl and beautiful birds. We will spend whole day by cruising different rivers and canals up to Harbaria forest point to feel the forest from very close with a rare chance to see a tiger and the fishermen. Return to Mongla around 4 pm, transfer to Jessore airport to avail the evening flight towards Dhaka. Upon arrival Dhaka transfer to hotel and overnight.
Day-05: Shopping trip & departure transfer
Morning shopping trip till departure transfer. Visit the most popular shopping centres and exotic Bazars and take a shower of masses. The shops we offer are Arong – a wonderful handicraft shop, Sopura silk – most popular silk cloth brand in Bangladesh, antique market – where you will find different product and products made of brass metal, Westic – a very popular garments shop to the foreigners specially.
Please note that the itinerary stated above is correct as our planned intentions for the tour. However adverse weather conditions and other local considerations can necessitate some modifications of the itinerary during the course of the tour; any changes will be made to make the best of the time and weather conditions available to us.
Above itinerary can be customize according to the guest interest and requirements. Please contact with us for more details.
Best Time to Travel
Nov-Mar: Best time for trekking, hiking, bird watching and boat trips
Tour Available: You can avail this tour package all the year round
Remarks: Paddle wheel Steamer/traditional ferry service is not operated from Dhaka on Friday.