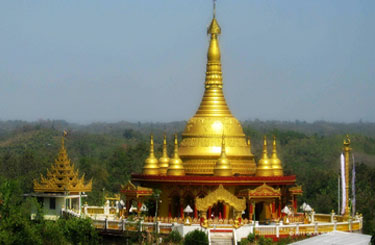 TRANQUIL RANGAMATI & BANDARBAN WITH COX'S BAZAR FREE AND EASY PACKAGE
(Dhaka-Chittagong-Rangamati-Bandarban-Cox's bazar-Dhaka)
(Tour itinerary -7 nights / 8 days)
Day-01: Meet & Transfer to hotel, PM old Dhaka city tour
Pick up from airport & transfer to hotel. If time permits our guide will take you to the most interesting sites like Majestic Pink Palace (Ahsan Manjil), Lalbag Fort built in 1678 during Mughol Dynasty and the Famous Dhakeshweri Mandir (Hindu Temple), Curzon Hall, Shahid Minar, National Mosque, Star Mosque etc. On your return visit the National assembly building, the most distinctive building in Asia and the wonderful architectural accomplishment of famous architect Luis I Kahn of USA. Dinner and overnight at hotel.
Day 02: AM flight to Chittagong & visit Foy's Lake in Chittagong & drive to Rangamati
Morning flight to Chittagong & pick up from airport & sightseeing will be offered to Foy's Lake. After finished Lake visit & lunch drive to Rangamati by road transport. Arrive Rangamati in the evening. Dinner & overnight stay at hotel.
Day 03: Rangamati boat cruise
After breakfast we will offer you the most fascinating boat cruise in the Kaptai Lake with its splendid setting of lush landscape and scenic grandeur. The journey through the Suvolong point and entering into the widest part of lake will be an amazing experience which is more exciting than that of Kashmir valley. The boat journey through the vast expanse (spreading over 680sq. km.) of crystal clear water flanked by hills and evergreen dense forest with rich tribal villages temples and tribal markets. Overnight stay at Hotel. Dinner at a local restaurant run by the King's family.
Day-04: Rangamati-Bandarban
After breakfast start journey to the hill district Bandarban. On the way to Bandarban you will visit Meghla tourist resort and Moorong tribal villages, traditional market and transfer to Eco-tourist lodge on the hilltop at the Chimbuk Road. After lunch visit the Bhomong King's residence and colorful native market. You may go for a hike down to the Sangu River and walk to the Bhom tribal village including trekking to Chimbuk hilltop (3800 feet high pick) to witness the spectacular sunset. Overnight stay at Eco-tourist lodge.
Day 05: Bandarban to Cox's Bazar
After breakfast visit the famous golden Buddhist temple at Zadi hilltop, the most ornamented Buddhist temple in Bangladesh. In the afternoon drive to Cox's Bazar. Arrive Cox's Bazar in the evening. Dinner & overnight at cox's bazar.
Day-06: Cox's Bazar
After breakfast visit the unspoiled coral stone Inani sea beach and Himchari beach of golden sands, towering cliffs in the backdrop of panoramic chain of hills covered with evergreen forest return to Cox's Bazar. Lunch a sea side restaurant. Afternoon free for beach activities or beach market Shopping. Dinner & overnight at Hotel.
Day-07: Cox's Bazar – Dhaka
On time transfer to airport and fly back to Dhaka. Pick up from airport and transfer to hotel. Dinner and overnight.
Day 08: Departure transfer to airport
Morning shopping trip till departure transfer. Visit the most popular shopping centers and exotic Bazars and take a shower of masses. The shops we offer are Arong – a wonderful handicraft shop, Sopura silk – most popular silk cloth brand in Bangladesh, antique market – where you will find different product and products made of brass metal, Westic – a very popular garments shop to the foreigners specially..