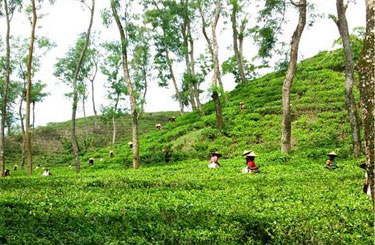 TOPICAL RAIN FOREST & TEA GARDEN PACKAGE
(Dhaka-Srimongal-Sylhet-Dhaka)
(Tour itinerary -6 Nights / 7 days)
Day-01: Meet & Transfer to hotel, PM old Dhaka city tour
Pick up from airport & transfer to hotel. If time permits our guide will take you to the most interesting sites like Majestic Pink Palace (Ahsan Manjil), Lalbag Fort built in 1678 during Mughol Dynasty and the Famous Dhakeshweri Mandir (Hindu Temple), Curzon Hall, Shahid Minar, National Mosque, Star Mosque etc. On your return visit the National assembly building, the most distinctive building in Asia and the wonderful architectural accomplishment of famous architect Luis I Kahn of USA. Dinner and overnight at hotel.
Day-02: Dhaka to Srimongal
After Breakfast drive to Srimangol / Kulaura by AC tourist coach (4 Hrs journey). Transfer to Tea Garden Resort. After lunch drive to Shirajnagar – visit tea garden, Khasiapunji & tribal village. Dinner and free time in the tea resort.
Day-03: Explore Lawachara rain forest at Srimangol
After Breakfast drive to Lawachara rain forest explore the forest and watching birds, visit the tribal villages. Lunch at tea resort. After lunch visit the tea gardens, enjoy tea plucking & processing factory. Overnight at tea resort.
Day-04: Visit Madhabkundu water falls & drive to Sylhet
Early Breakfast. Drive to Madhabkundu water falls and other wildlife areas. Visit tribal villages, trekking to the forest hills. After lunch drive to Sylhet (3hrs journey) and transfer to hotel. Dinner and overnight stay at hotel.
Day-05: Explore Jaflong
Morning sightseeing at Sylhet surrounding area, visit the Hollyshrine of Muslims Saints, Hindu Temples and Tea Gardens on the hill slopes. After lunch drive to Jaflong located near by the Meghalaya state of India. Explore Jaflong, Sripur tribal villages, water springs and ancient fortified city of Jayantia king's palace. Return to Sylhet and overnight at hotel.
Day-06: Sylhet to Dhaka
Drive to Dhaka by AC tourist couch (286 km). Lunch at the wayside restaurant. Arrive Dhaka in the late afternoon. Evening free, dinner and overnight at hotel in Dhaka.
Day-07: Shopping trip & departure transfer
Morning shopping trip till departure transfer. Visit the most popular shopping centres and exotic Bazars and take a shower of masses. The shops we offer are Arong – a wonderful handicraft shop, Sopura silk – most popular silk cloth brand in Bangladesh, antique market – where you will find different product and products made of brass metal, Westic – a very popular garments shop to the foreigners specially.